Montaje archivo «Cementerio»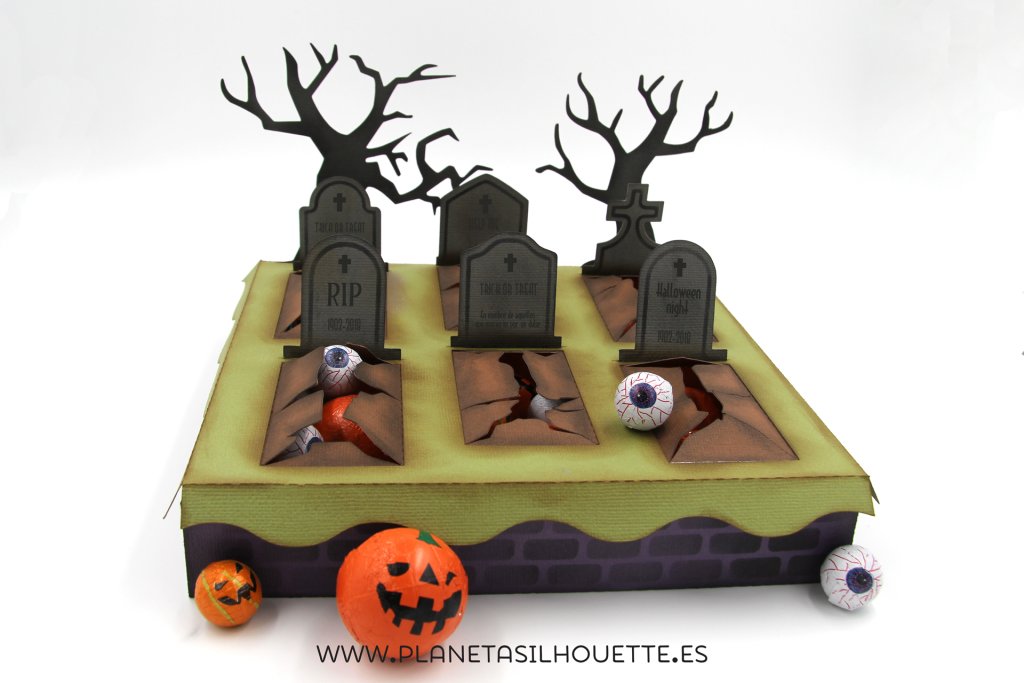 He subido este nuevo archivo a la tienda Silhouette, y para que nadie se lie con el montaje… ¡Aquí estan las instrucciones!.
Materiales
7 cartulinas texturadas Bazzil 30×30 cm (negro, gris, marrón, verde, morado y 2 naranjas)
Instrucciones/

Assembly instructions
1. Corta cada pieza del archivo en su cartulina correspondiente
1. Cut each piece of the file on its corresponding cardstock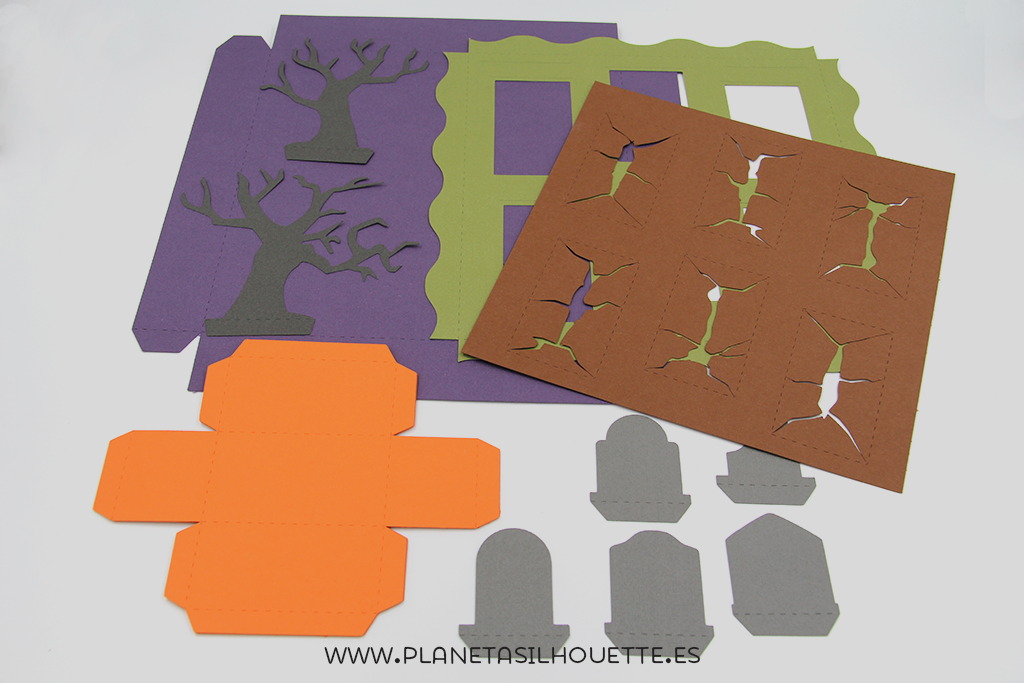 2. Decora las piezas cortadas para darle tu toque terrorífico.
Yo he usado tintas distress para dar un aspecto envejecido.
2. Decorate the cut pieces to give your terrifying touch.
I used distress inks to give an aged look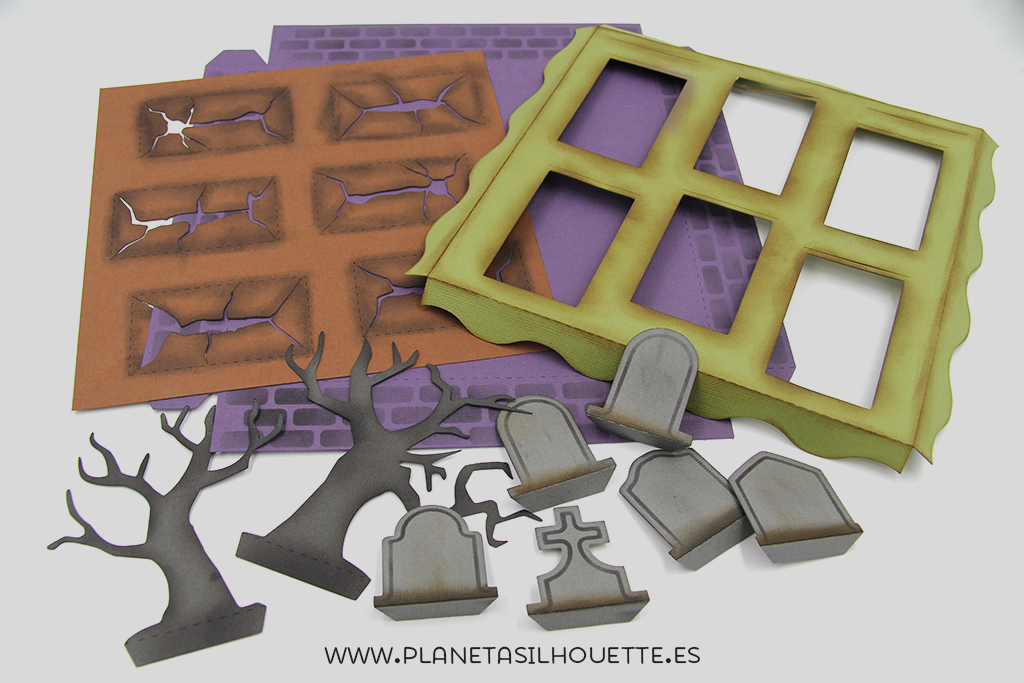 3. Monta la base de la caja pegando las solapas laterales
3. Assemble the base of the box gluing the side flaps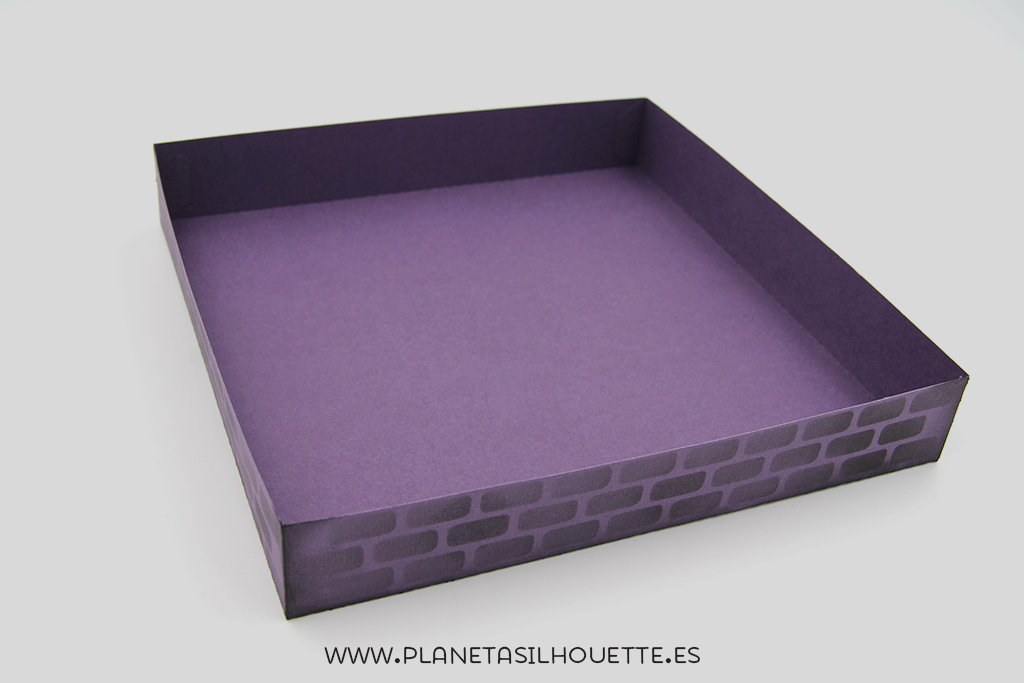 4. Inserta los elementos decorativos (lápidas y árboles) en las ranuras de la piezas verde.
Dobla las solapas de las lápidas hacia atrás, las de los árboles para delante, y pégalas por detrás.
4. Insert the decorative elements (gravestones and trees) into the slots of the green piece.
Fold the laps of the gravestones backwards, the trees to the front, and glue them to the back of the green piece.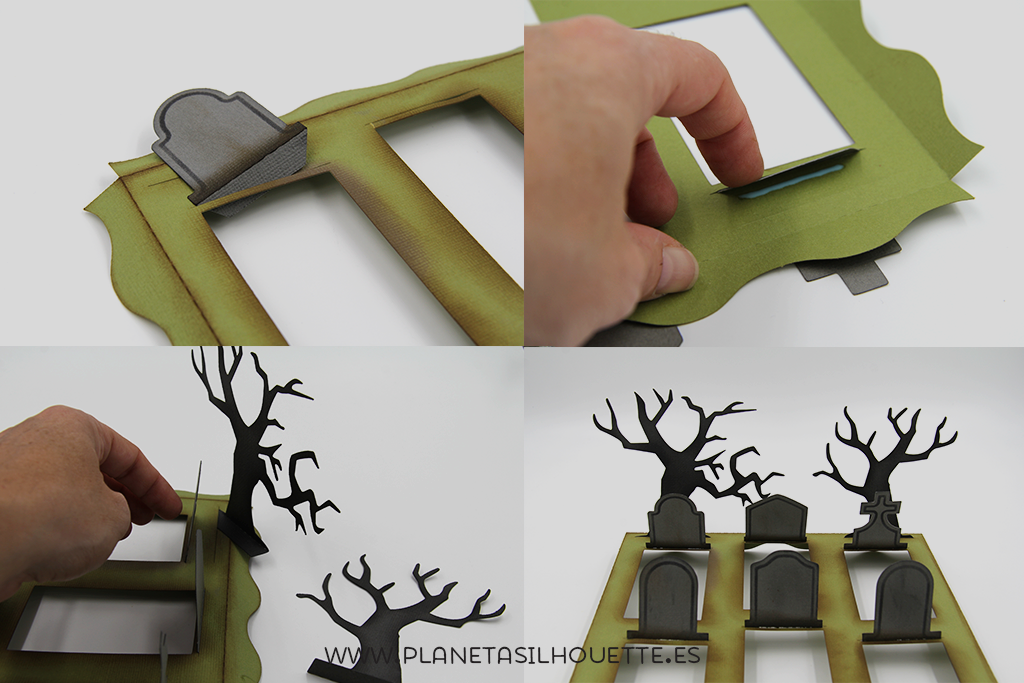 5. Monta las cajas naranjas pegando únicamente las solapas laterales. Las solapas superiores se dejarán dobladas hacia fuera.
5. Assemble the orange boxes by gluing only the side flaps. The top flaps will be folded out.

6. Pega las cajas naranjas en la parte inferior de la pieza marrón.
La forma más sencilla, de que quede bien alineado con el hueco rectangular, es colocar primero una de las solapas e ir pegando después el resto de solapas.
6. Glue the orange boxes to the bottom of the brown piece.
The simplest way is to place and glue one of the flaps and then attach the remaining ones.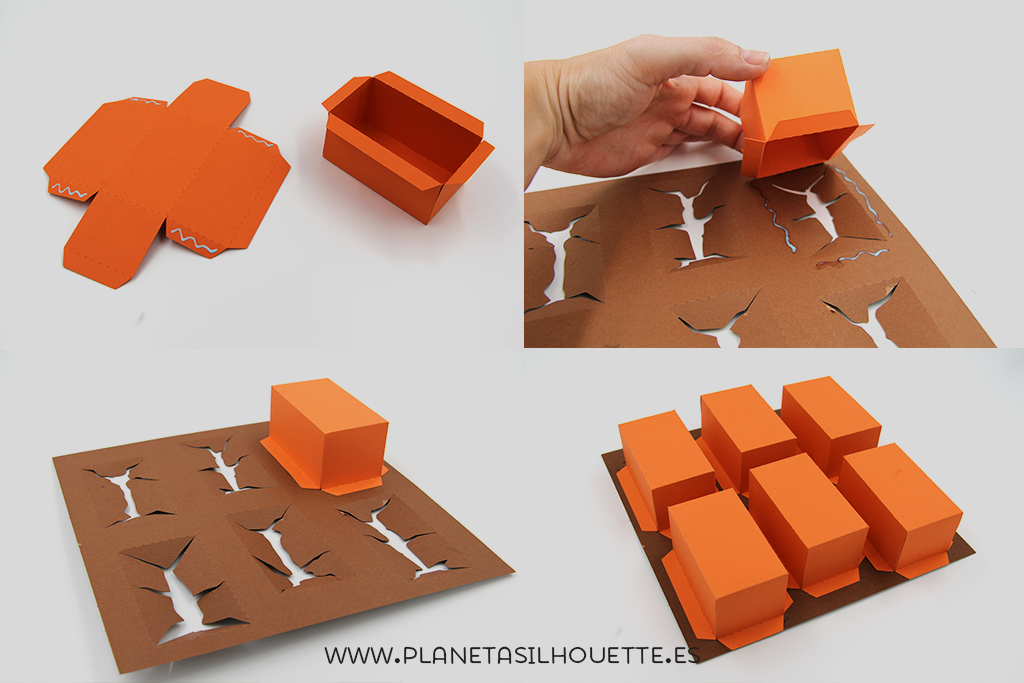 7. Pega la pieza marrón debajo de la verde, de forma que quede centrada y coincidan los huecos rectangulares.
7. Glue the brown piece under the green, centered and aligning the rectangular holes.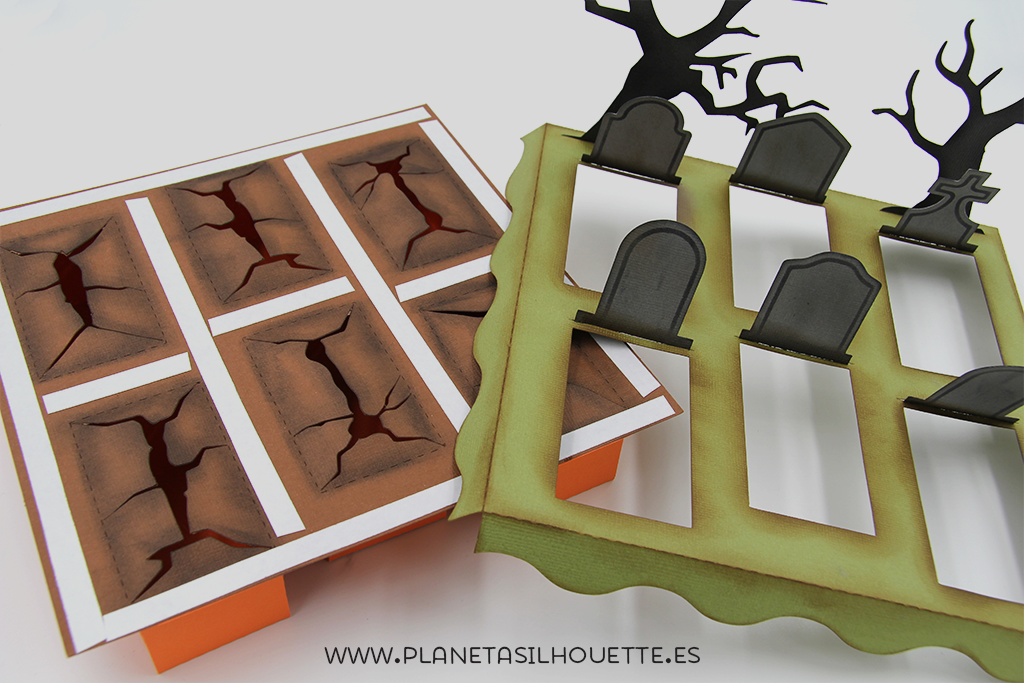 8. Coloca, sobre la base de la caja morada, la tapa con todos los elementos.
Puedes pegar los laterales de la tapa para que no se mueva, yo lo dejé sin pegar para poder poner luces en los huecos (entre las cajas naranjas) y que destaque más en la oscuridad.
8. Place the lid with all the elements over the purple box.
You can glue the sides of the lid to the box so it doesn't open. I left it without gluing it so I can put lights inside. So spooky!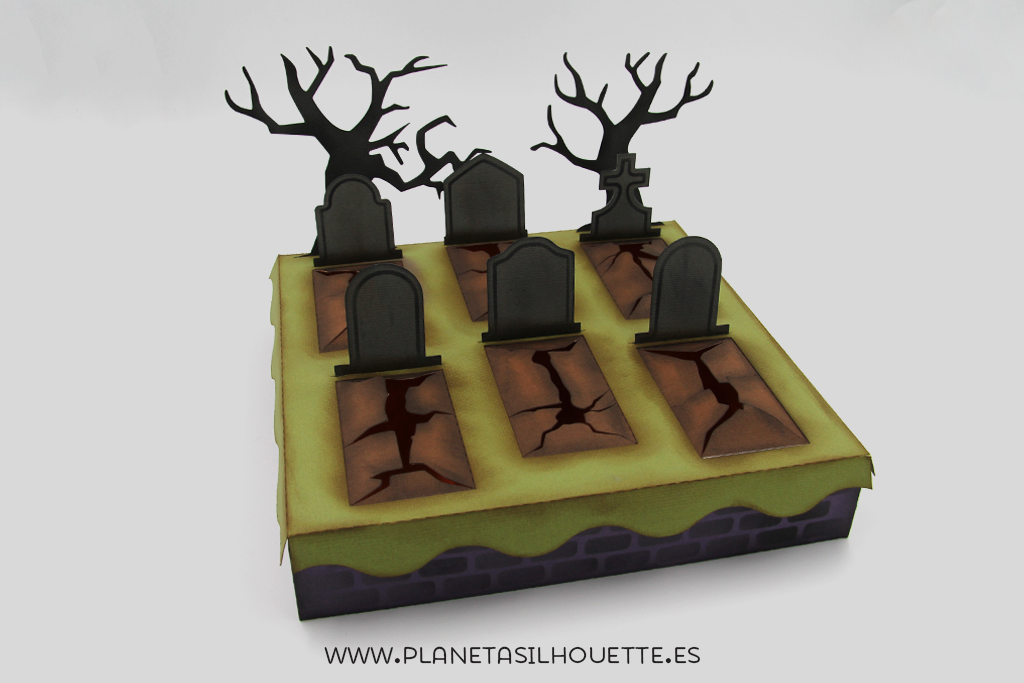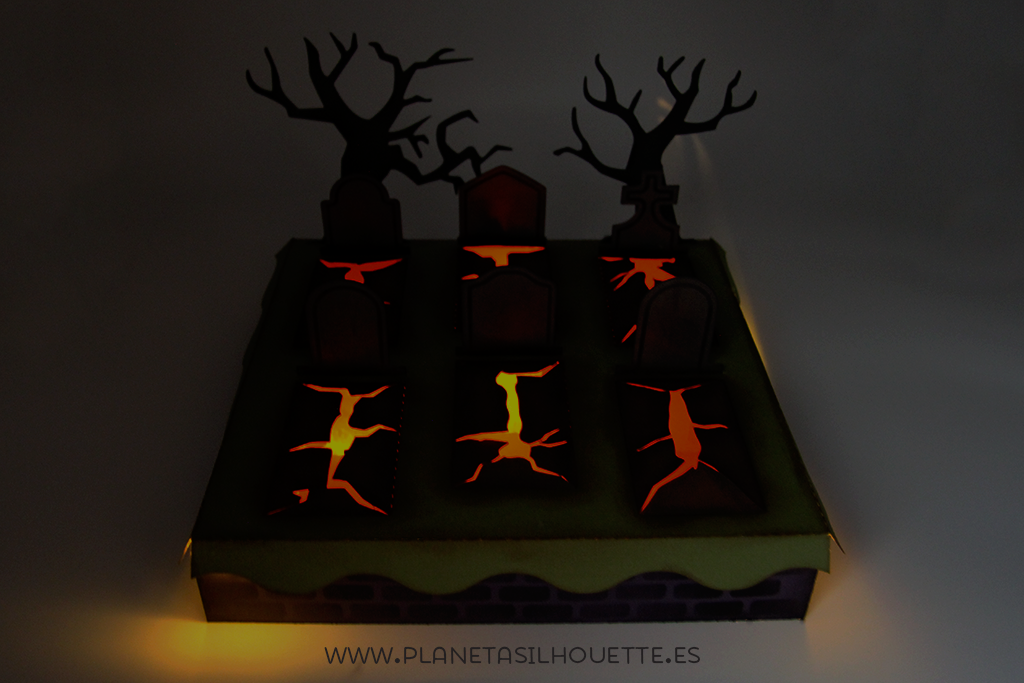 9. Terminado, y listo para llenarlo de dulces!!
Incluso puedes meter en algunos huecos bichos de goma, para que los niños tengan que elegir con cuidado donde van a meter la mano.
9. Finished, and ready to fill with treats !!
You can fill some boxes with rubber bugs so children get a good scare.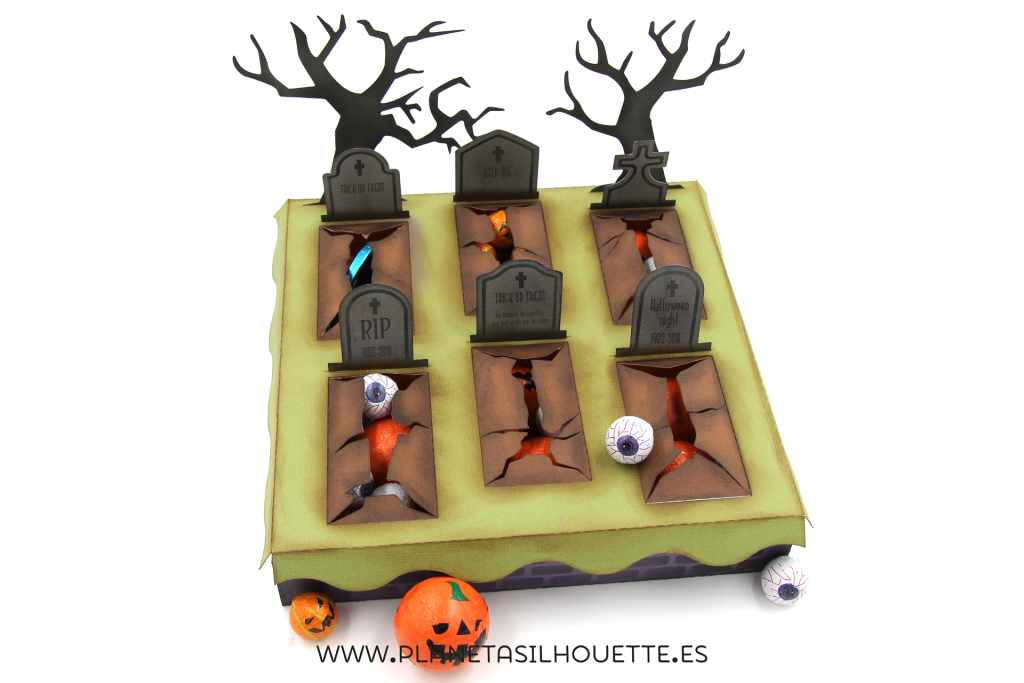 FELIZ HALLOWEEN/HAPPY HALLOWEEN.
Ana.