Mis diseños de la tienda Silhouette: Mini álbum Iglesia
Con este bonito álbum en forma de iglesia podrás guardar tus fotos favoritas. Es Ideal para bodas, comuniones y bautizos.
Keep your favourite photos with this wonderful church shaped mini album. Perfect for weddings, first Communion and baptisms.
Compra aquí el archivo/Buy cut file here: https://www.silhouettedesignstore.com/view-shape/186796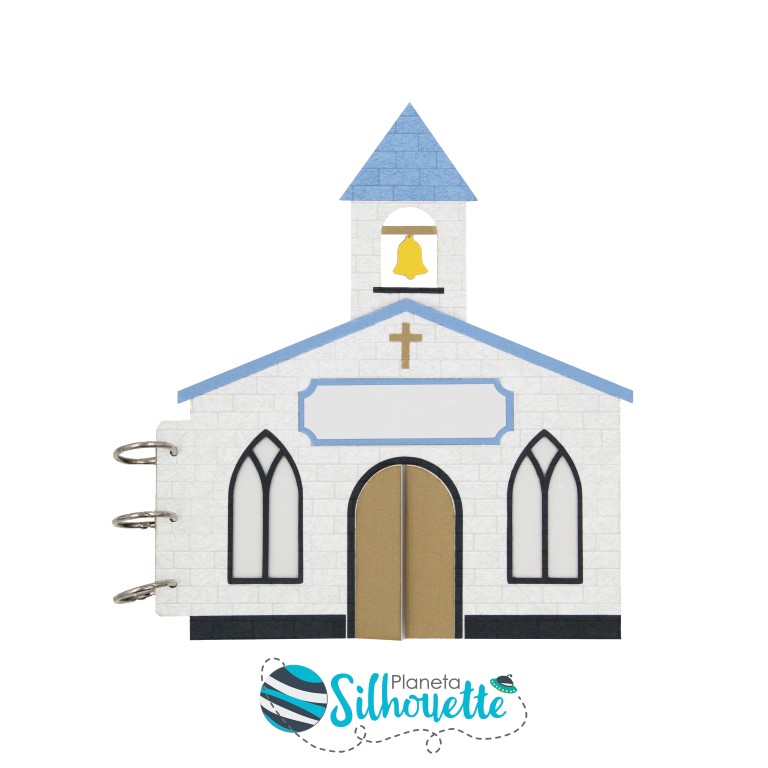 Corta en cartoncillo las piezas marcadas de rojo en la imagen. Una de la la que tiene huecos de las ventanas que corresponde a la portada, otra de la del campanario, y del resto el número de páginas que quieras para tu álbum.
Use chipboard to cut the red colored parts shown in the image. You will need one with the windows for the cover, one with the

bell tower for the second page, and cut any number you want for the inside pages.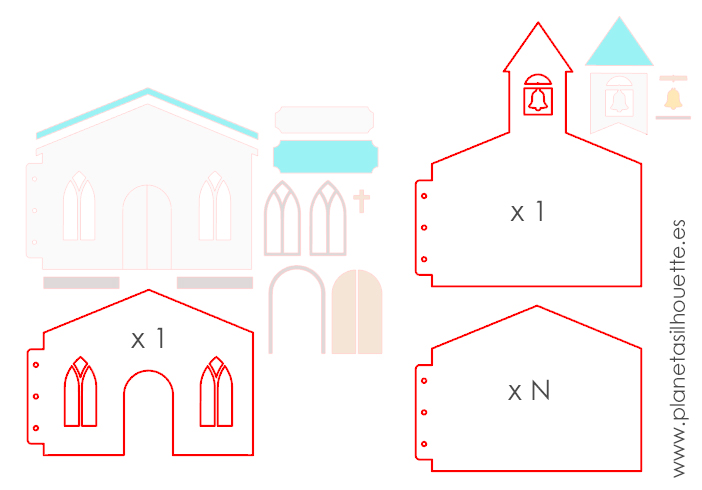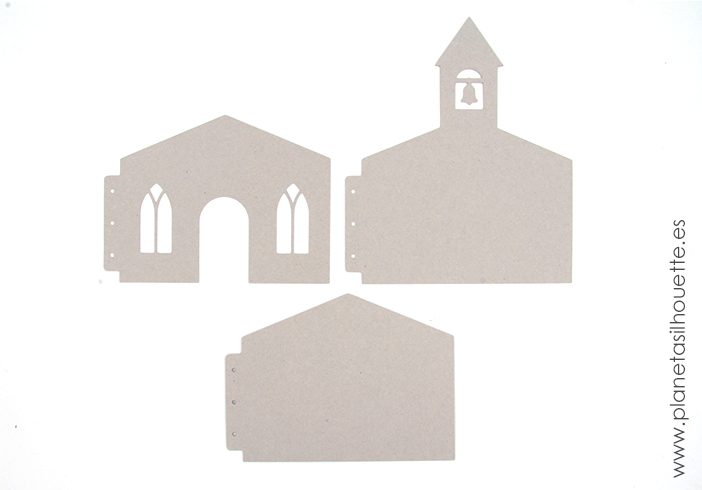 2. Corta las piezas de la fachada de la iglesia, y pega cada elemento en la posición correcta. ¡Puedes usar tus papeles de scrap o cartulinas de colores favoritos!
Cut all the front small parts and glue them in place. Choose your favourite cardboard or scrapbook paper!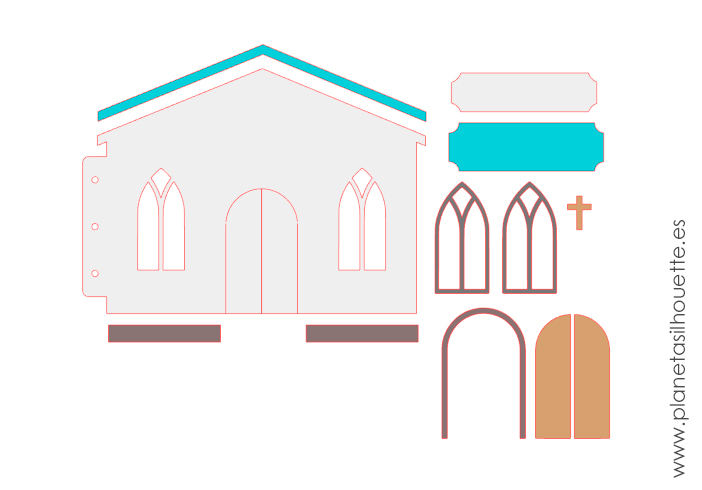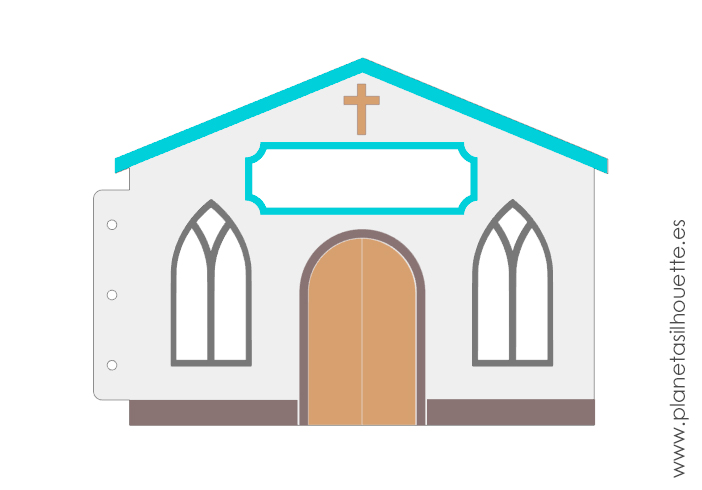 Pega la portada terminada sobre su cartoncillo correspondiente.
Glue the colored frontpage to the correspondent chipboard cover.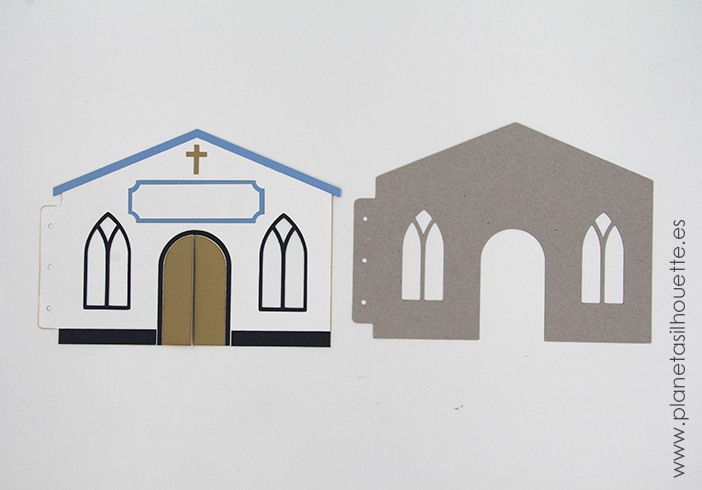 3. Corta las piezas del campanario y colócalos sobre su base correspondiente.
Cut bell tower parts and glue them in place.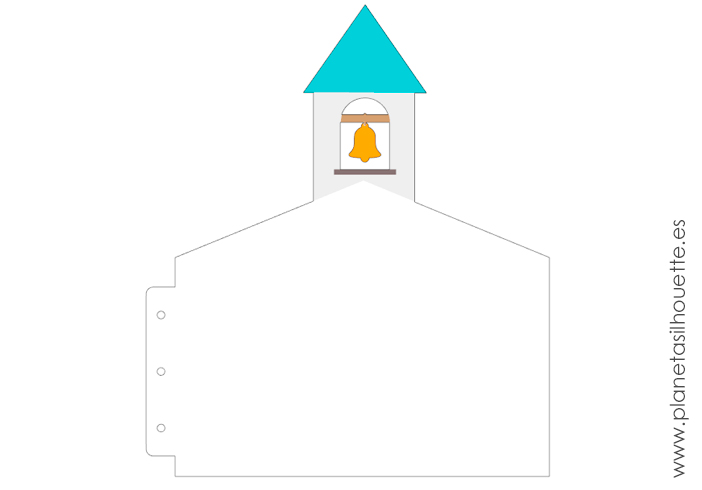 Puedes pegarlos directamente sobre el cartoncillo, o cortar una pieza adicional de la página para cubrir el cartoncillo.
You may glue the bell tower parts directly onto the chipboard, or cut an additional page with the same shape and put it between.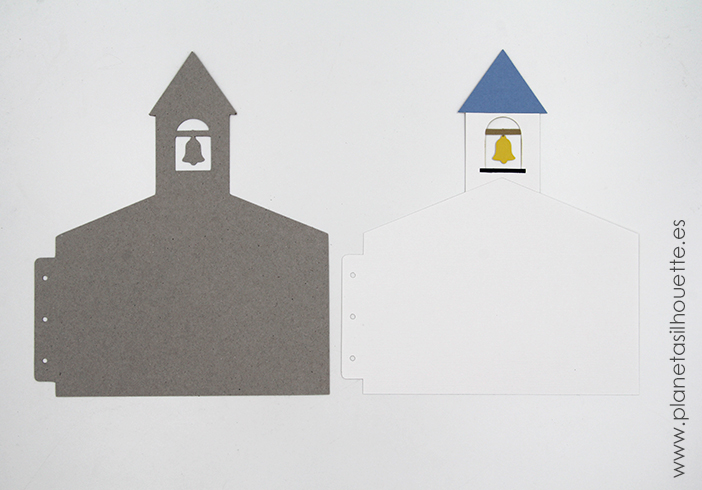 4. Decora el interior de tu álbum con tus papeles favoritos. Recuerda que puedes usar la pieza de corte de las páginas para cortar con la misma forma tus papeles y/o cartulinas.
Use your favourite paper or cardboard to decorate the inside pages. Cut them with the same shape as the chipboard pages and glue them together.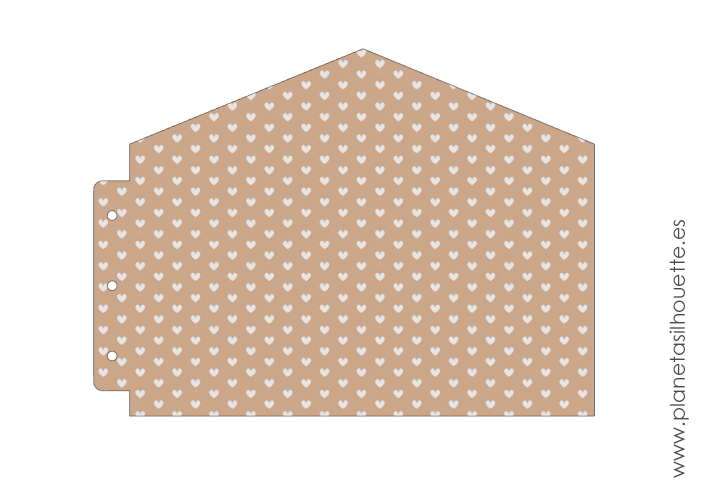 5. Utiliza unas anillas para cerrar tu álbum. Si prefieres usar encuadernadora, puedes eliminar los círculos de cada pieza, seleccionándola y soltando trazado compuesto.
Use rings to tie the album together. If you prefer to use a binder, remove the punch holes from the pages by releasing compound path.
Espero que disfrutes con el montaje de tu álbum y guardes tus fotos favoritas. Si te animas a mostrarme tu mini álbum, puedes enviarme tu foto a info@planetasilhouette.es.
Enjoy your mini album and feel free to send me a photo of your finished mini album to info@planetasilhouette.es.
Ana.
Planeta Silhouette.